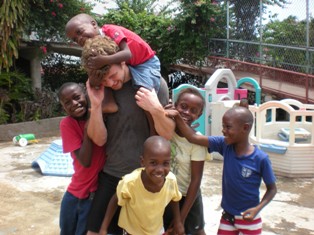 Students grow in charity by living the Beatitudes through our service and mission ministries. Individual interests and charisms vary so students have an array of opportunities to be of service. Some options include:
• An Active Student Pro-Life Club
• Trips to the National March for Life in Washington, D.C.
• Visiting the Elderly at Lincoln's Lancaster Manor
• Befriending the Mentally/Physically Challenged through the Friendship Club
• Serving the Needs of the Community's Impoverished
• Spring Break Mission Trips to Assist the Apostolates of the Sisters of
Charity and the Franciscan Friars of the Renewal
• International Mission Trips, through the National FOCUS Program, to
Peru, Jamaica, India, Ireland, Spain, Belize and Mexico
THE CHALLENGE
Management of all these life-changing ministries requires staff and office space. The current Newman Center is only partially air-conditioned and drastically short on office space. Staff members share small offices. Additionally, our aging facility creates barriers for disabled students and elderly guests due to split-level floors with lots of steps and no elevators. Two important segments of the community are thus excluded. The building is neither compliant with building codes, nor is it energy efficient.
THE SOLUTION
The Newman Center must increase its permanent office space by 60 percent to allow our student organizations, leaders and staff to more effectively carry out our mission. We also need to be a welcoming parish community with a building that meets current codes for accessibility and energy efficiency.