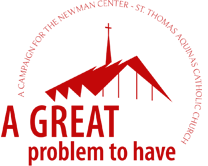 Current Campaign Total: $19,008,119
The Newman Center, St. Thomas Aquinas Church at UNL is a dedicated youth ministry in Lincoln, Nebraska. Our Catholic youth group puts the celebration of the Sacraments at the forefront of our mission. Through formal dances each semester, serving on the student board, attending our weekly Community Nights, or participating in one of our championship intramural teams, students can meet peers with similar morals and values, all while having a great time. Our Community and Fellowship Youth Ministries (FOCUS, Fellowship of Catholic University Students) at the Newman Center are one of the largest youth ministries in the United States. We nurture a growing Catholic community among college students at the University of Nebraska-Lincoln. Students have a variety of opportunities to be of service to the elderly, mentally challenged, unborn and impoverished within our own community, across the country and around the world.
Weekend-long retreats are offered each semester and individual spiritual direction and vocational discernment are available for all students.
Welcome to The Newman Center!
Exciting Campaign Update!
See live video of the Newman Center construction.
See video of Newman Center bells ringing for the first time.
See the bells being cast for the St. Thomas Aquinas Church.
See a Photo Gallery of the expansion plans.
"The Newman Center entitled their capital campaign: "A great problem to have." In fact, it's an extraordinary problem to have. On the campus of a large, secular, public university, the Catholic ministry program was compelled by the overflowing crowds of students to demolish their entire physical plant and rebuild in order to accommodate the throngs of students attending Mass, bible studies and other faith and fellowship programs. Their unprecedented success in ministering to the needs of Catholic students provides tremendous comfort for Catholic families, as UNL is the college of choice for the majority of Catholic families in Nebraska."
- Dr. Matt Hecker, Dean of Students, UNL